Spread the Net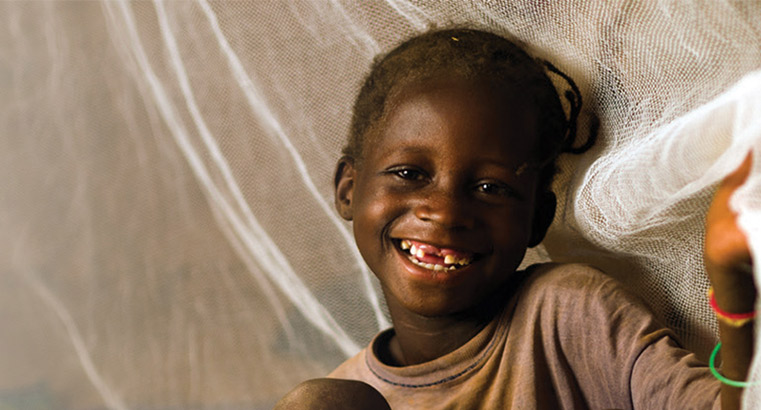 PARTICIPATE IN OUR GLOBAL CHALLENGE TO END MALARIA!
Every 2 minutes a child dies of malaria, but we have the power to change this by participating in the Spread the Net Challenge to ensure millions of people around the world continue to receive life-saving mosquito nets. 

Spread the Net is a Plan International Canada initiative designed to educate and inspire Canadians to help end preventable malaria deaths by raising funds and awareness to support the purchase and distribution of mosquito nets, along with training on their use, to children and their families around the world

We can't wait to help you get started!
HOW TO START A SPREAD THE NET FUNDRAISER
Leading up to World Malaria Day (April 25th), we challenge students, gamers, families and community groups to take on the fight against malaria by starting a fundraiser today!

In these uncertain times, we are reminded of the greater role we play to keep all communities safe and healthy. This year Plan International Canada's Spread the Net Challenge is completely virtual - so you and your network can help fight this preventable disease while remaining safe and socially distanced.

By using our fundraising platform, you can inspire your network to get behind this critical challenge.

LET'S GET STARTED!
How to set up your online fundraiser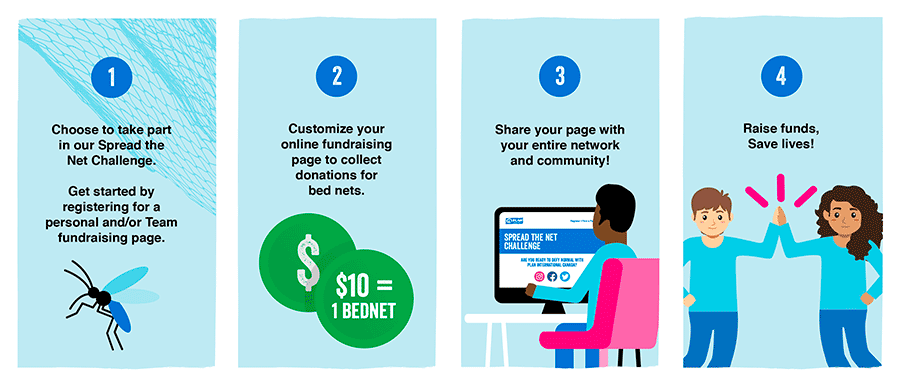 Fundraising has never been so fun! Whether you're hosting a virtual movie screening, running a solo marathon or selling and delivering homemade goods, you can use your online fundraising page to engage your community to rally behind this cause.
how to Set up your Livestream
Want to game for good? Now, you can participate in Plan International Canada's Spread the Net by setting up a Livestream to fundraise for bed nets. Engage your virtual community and stream to stop the spread of malaria around the world!
LEARN MORE ABOUT OUR GLOBAL FIGHT AGAINST MALARIA
For over fifteen years, Plan International has been partnering with The Global Fund to Fight AIDS, Tuberculosis, and Malaria. Since the start of this partnership, our malaria interventions alone have resulted in:
16.6
MILLION
Live-saving mosquito nets distributed
30
million
People protected from Malaria
The fight against malaria is one of humanity's biggest public health achievements. Since 2000, the world has made historic progress toward eradicating malaria, saving millions of lives. Yet, half the world still lives at risk from this preventable, treatable disease—costing a child's life every two minutes.

We are more than one year into a global pandemic and decades of progress for gender equality and children's rights are being unraveled, including in the fight against malaria. With prevention programs postponed and deadly delays in treatment, hard-fought wins toward eradicating the disease are being rolled back.

In partnership with The Global Fund to Fight AIDS, Tuberculosis, and Malaria, local governments and Ministries of Health, and community-based organizations, Plan International Canada is urgently working to prevent this setback by stepping up our investment in malaria control, prevention, and treatment throughout the pandemic.
During the COVID-19 crisis, Plan International's Malaria prevention efforts are focused on
Continuing to distribute bed nets and training families on their use
Providing Personal Protective Equipment (PPE) to bed net distributors, including masks, liquid soap and hand sanitizer to prevent the spread of COVID-19 
Training community health workers in malaria prevention, detection and treatment 
Raising awareness on how to prevent malaria in schools and ensure pregnant women have access to malaria-preventing medicines  
Providing training on COVID-19 prevention measures and how to raise awareness during bed net distribution  
Help  prevent this deadly setback  by participating in the Spread the Net Challenge to ensure millions of people around the world continue to receive life-saving bed nets. Learn more about how you and your friends can help #SpreadtheNet today:  
0THER WAYS TO JOIN THE GLOBAL FIGHT AGAINST MALARIA

DONATE A BED NET NOW
You can directly purchase a mosquito bed net through our Gifts of Hope:

It's deadly, it kills more than 450,000 children every year and it's entirely preventable: it's malaria. This gift is a simple solution designed to stop a killer in its tracks. Mosquito bed nets are treated with insecticide and last up to three years. With a focus on malaria prevention, this gift provides bed nets to families and training in how to use them. Help protect children in developing countries, where malaria infections threaten lives year round.

Top Fundraisers