Gifts of Hope Youth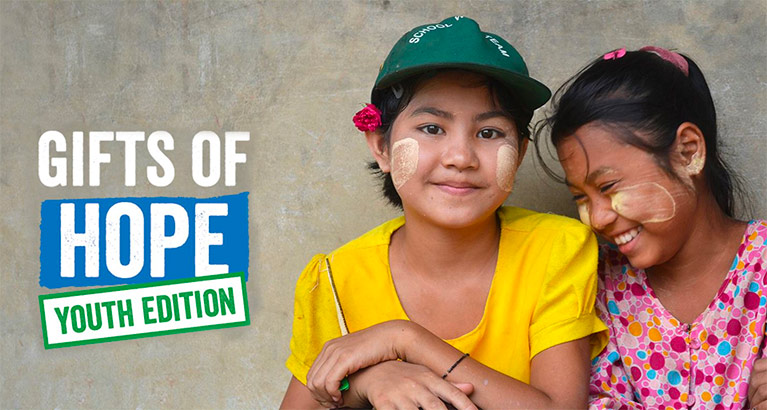 Join our School Fundraising program to unlock exciting learning materials and activities!
Since 2004, Gifts of Hope has reached millions around the world with life-changing gifts that give back. These gifts are made possible by the generosity of people like you!
Gifts of Hope cannot be wrapped like regular gifts you buy at the store, but they do unwrap huge possibilities for those who receive them – from goats, school supplies, clean water access and essential health equipment, to entrepreneurial ventures for women and girls, and vitally-needed supplies in times of emergency.
With Plan International Canada, as part of one of the world's oldest and largest international development organizations, your donation goes directly to the gift you choose – helping children, families and communities in need, just as described.
You can feel good about giving Gifts of Hope to the person in your life who has everything because your gift will work double duty to both delights, and support today's most important causes
How it works:
Fundraising has never been so educational! Our Gifts of Hope School Program is a comprehensive way for students of all ages to practice their global citizenry. In addition to fundraising for the Gifts of Hope items featured below, your classroom will learn more about Plan International's work by accessing various thematic learning materials and activities on Education, Water & Sanitation, Gender Equality, and Livestock!
Register now to create your own fundraising page and download exciting resources and learning materials such as:
Lesson plans (Village of Hope), and classroom activities on Education, Gender Equality, Water & Sanitation, and Livestock.

Access how-to videos to help guide your classroom and fundraising activities.

Request for a guest speaker from Plan International to speak on our work and Gift of Hope.

Fundraising toolkits, digital resources, cut-outs, and QR codes to elevate your fundraising initiative.
gift of hope options
Create your own Gifts of Hope fundraiser page, with one of the top fundraising gifts below
Covid-19 kits
Help stop the spread of COVID-19 and protect vulnerable, remote or densely populated communities around the world with a gift packed with hand soap, hand sanitizer, wipes, temperature sensors and masks. Combined with critical information on preventative hygiene practices, these seemingly simple items have lifesaving power.
Price: $50. The Match Ratio of this gift is 8:1
(Your $50.00 is matched for a $250 value!).
Covid-19 Vaccine Roll-out
Support the world's most urgent cause: help get COVID-19 vaccinations into remote and poorly resourced communities, and to those who need them most. Help fuel vaccine transport, train health workers for smooth distribution and ensure vulnerable groups can attend clinics and secure doses.

Price: $50. The Match Ratio of this gift is 4:1 (Your $50 is matched for a $250 value!)
Strengthening Gender Equality
Girl power
Girls have a unique ability to change the world and the lives of those around them. This gift is about unleashing that power in every girl. It's about offering girls nourishment, education, and protection.
Price: $100. Matched Ratio of this gift is 8:1
(Your $100 is matched for a $900 Value!)
Send a girl to school
Girls in many parts of the world have the desire to continue their studies, but not the means. This gift supplies that part of the equation. It provides girls in developing countries with the support they need to carry on with their schooling.
Price: $295. Matched Ratio of this Gift is 5:1.
(Your $295 is matched for a $1,770
value!)
Out-of-school LEarning
It's every child's right to learn, but school closures can permanently impact billions of children's education. Support distance learning activities from delivering workbooks to providing families with solar-powered radios and broadcasting lessons across entire regions. Help teachers and governments to adapt to crises, so no child gets left behind.
Price: $65. Matched Ratio of this gift is 4:1
(Your $65 is matched for a $325 value!)
School Essentials for an Entire classroom
Fill schools in developing countries with all the essentials to give students the best possible education and the best possible start to a better life. With this gift, you'll not only be helping provide basics such as textbooks and pencils, you'll be funding essential school meal programs and teacher training.
Price: $265.
Matched Ratio of this gift is 6:1
(Your
$265
is matched for a $1,855 value!)
Provide hygiene, water & sanitation
Water purification kit
This innovative solution to water contamination is crystal clear! With these solar-powered kits, communities impacted by droughts and floods, or unable to drill wells, can get clean drinking water – fast. Accompanied by training at remote schools, this gift boosts students' health and attendance, distilling outa fresh source of hope. Price: $120.
Matched Ratio of this gift is 4:1
(Your $120 is matched for a $600 value!)
Hygiene Kit for GIrls
For girls seeking refuge from violence or natural disasters, this gift holds much more than everyday essentials. Filled to the brim with soap, toothpaste and sanitary products like menstrual pads, this kit protects girls' health, promotes hygiene and prevents stigmatization so girls can carry on with confidence.
Price: $45.
Matched Ratio of this gift is 5:1
(Your $45 is matched for a $270 value!)
Goats
It just might be the most unique gift you'll give this year. It most certainly will be the most life-changing. Goat's milk means important protein for growing children, especially girls. The sale of offsprings means an income to pay for essentials – like an education – that open up opportunities for girls. Price: $80.
A farmload of Animals
A farmload of animals makes for a farmload of food, income, and hope. This gift of farm animals divided up between families in a community will help feed children and generate income to pay for housing, health care, and education. Price: $195
Top Fundraisers
Top Teams